On a recent visit to Michigan, the Veridocs team met with industry and dispensary representatives and get a sense of where the cannabis market is heading. We came away with a few key insights:
Michigan Cannabis Market is Exploding
Michigan's recreational marijuana sales doubled in 2021, and the upward trend appears to be continuing. Sales topped $135 million in December of 2021, and overall inventory increased by 80% during the year. As demand increases and more dispensaries open, we can anticipate that number to keep climbing. Everyone, from mom-and-pop shops to larger dispensaries, wants to be able to meet that demand.
For Dispensary Operators, Streamlining is Top of Mind
One trend we saw take shape during our visit was vertical integration, where businesses grow, process, cut, and sell cannabis. This idea of "seed to sale" is tempting for dispensaries because it means a heightened level of control over their supply chain and inventory. Having simple, sensible solutions that integrate well with METRC (the state's chosen inventory tracking and reporting system) is key.
Security is Ramping Up
As with any age-restricted retail, risk is part of the landscape. For recreational cannabis, fake IDs are a big concern. The consequences for underage sales are considerable: hefty fines, suspension or even the loss of a dispensary's license to operate.
Our sources at CANNRA say that regulatory scrutiny will be ramping up to match the industry's popularity. Many dispensaries rely on a visual ID inspection, or a barcode scan. This type of verification works, until it doesn't. Creating an environment of security, from a check system at the door to ID authentication at the point of sale, can minimize risk and help dispensaries avoid fines and penalties.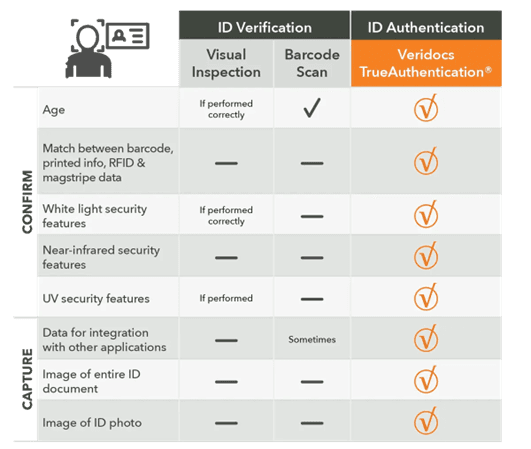 Want to know more about how Veridocs can help your dispensary manage growth by streamlining operations, reporting, and customer service while reducing risk? Get in touch for a demo today.